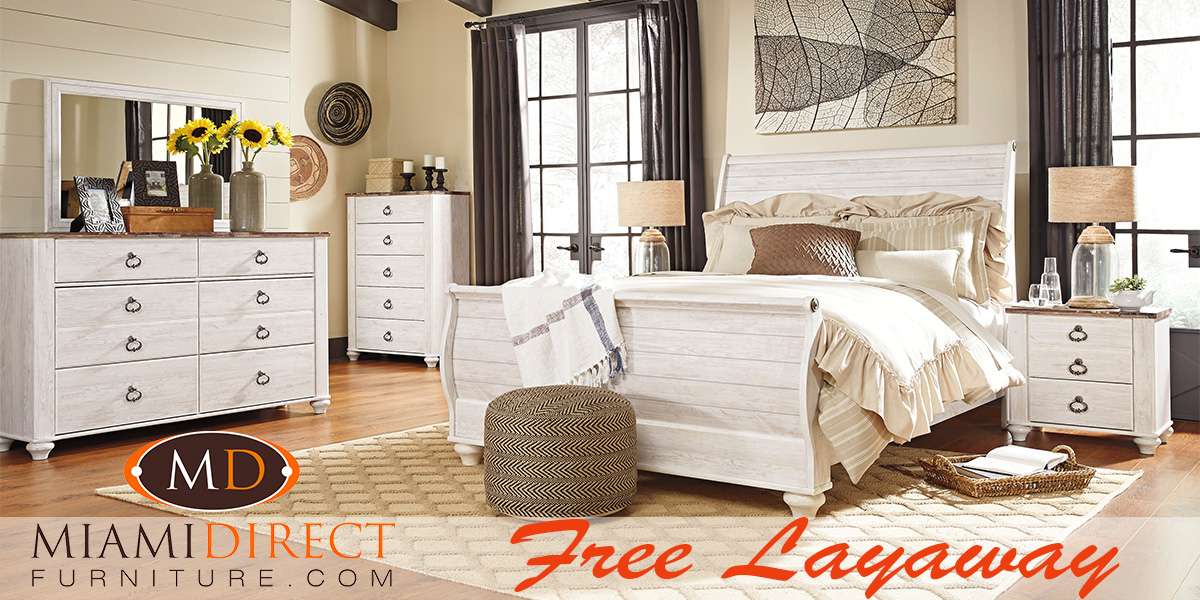 Layaway Policy and Procedures
To start a Layaway:
Step 1. Click on wish list
Step 2. Create an online account and add items to your wish list
Step 3. Click on Contact us and send us an email , use keyword (layaway) in the details. You may also call our customer service directly at 954-432-6826 or Whatsapp 954-789-4077.
Step 4. A customer service representative will contact you within 24 to 48 hrs to complete your layaway account.
Payment methods: credit /debit card , PayPal, bank transfer, check by mail or money order
Using PayPal: If you choose PayPal, we will send you an invoice through PayPal to the email address provided (Must be the same email used on your PayPal account).
Using Bank Transfer: Please contact us for our bank information. You financial institution may request a copy of your sales invoice.
Using a Money Order or check by mail: layaway payments may be sent to our mailing address:
Miami Direct Furniture
1907 N. Pine Island Rd
Plantation, FL 33322
Once your payment has been received, a credit will be applied to your layaway account.
All layaway plans are (6)months and are available for local and international customers.
A minimum deposit of 10% is required to begin your layaway plan.
All layaways must be PAID IN FULL before your order is processed.
Once your order is placed, please allow 7 to 10 business days for your order to be shipped. Special orders may delay your shipment.
layaway cancellations must be done within 10 days of invoice date in order to receive a full refund. Layaway orders cancelled after 10 days will receive a store credit which must be used within 60 days of cancellation date.
Layaways which are not paid off within (6) months will become null and void.
All Layaways are NON-REFUNDABLE.
If during your layaway, an item you selected is discontinued, a store credit will be issued to your layaway account.
Product pricing is subject to change without notice. Placing on item on Layaway does not guarantee a retained value.
Please feel free to contact us if you have any questions
Phone: 954-432-6826
Whatsapp: 954-789-4077
Email: info@miamidirectfurniture.com